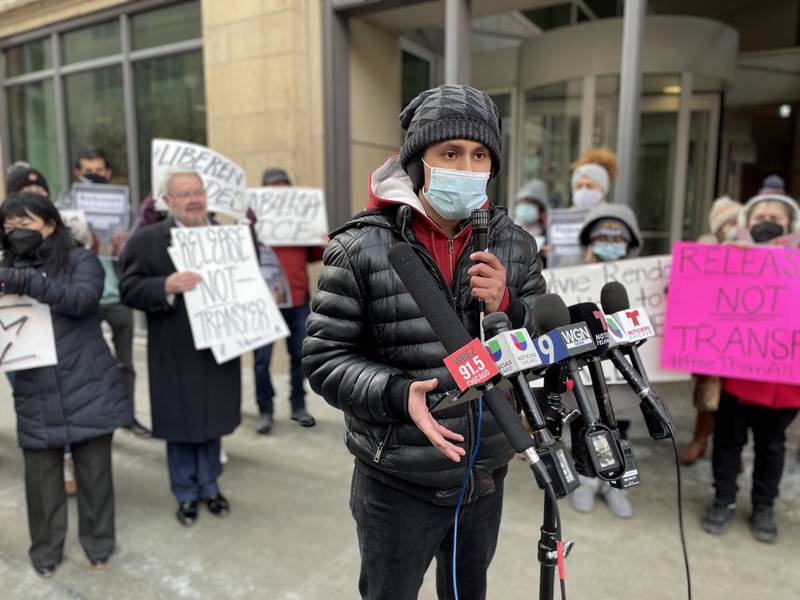 The worst experience of Angela Osorio's life was while she was detained at the McHenry County Jail last year, the 40-year-old mother of three said at a rally Tuesday outside the U.S. Immigration and Customs Enforcement field office in downtown Chicago.
Osorio spoke at a news conference arranged by several immigrant rights organizations to urge Sylvie Renda, ICE's Chicago field office director, and other federal officials to release the almost 30 undocumented immigrants currently being held in jail in McHenry and Kankakee counties and not transfer them to detention centers out of state.
The groups called on Renda to use her authority to release the remaining detainees, following the termination of the counties' ICE detention contracts, as a result of last year's passage of the Illinois Way Forward Act.
Their push comes about two weeks before McHenry County Jail expects to clear its holdings of federal immigration detainees.
In a lawsuit filed in September, McHenry and Kankakee counties argued that the Illinois Way Forward Act violates the Supremacy Clause of the U.S. Constitution, which prohibits states from interfering with the federal government's exercise of its constitutional powers, and interferes with the federal government's ability to do its work.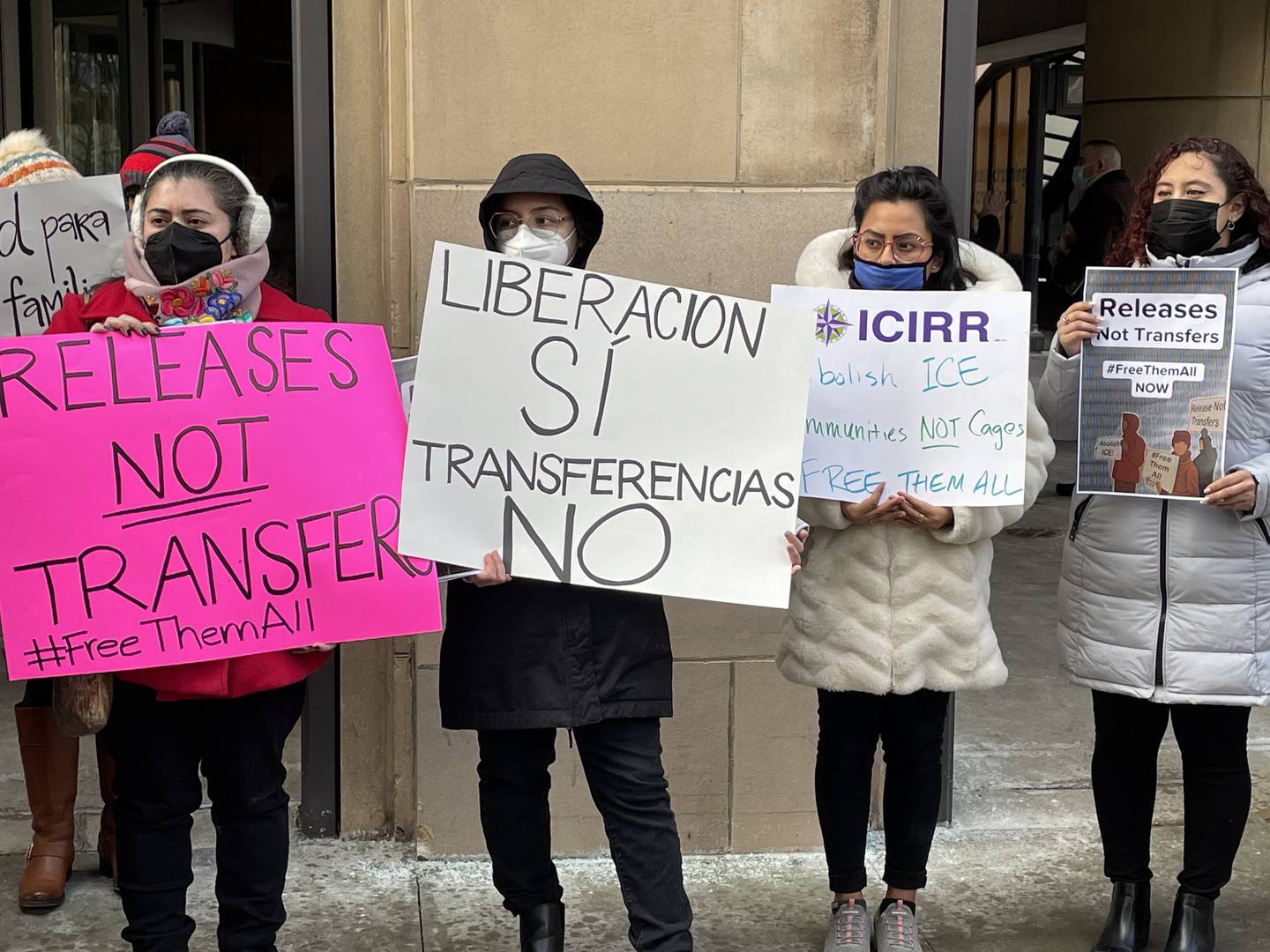 A 7th U.S. Circuit Court of Appeals three-judge panel issued a stay on Dec. 30, pushing back the deadline McHenry and Kankakee counties had to end their contracts to house ICE detainees to Jan. 13, but the judges later declined to extend that stay. McHenry County subsequently provided the federal government the 30-days notice needed to terminate the contract, McHenry County Board Chairman Mike Buehler said at the time.
The lawsuit still is pending in the appeals court, McHenry County spokeswoman Alicia Schueller said in an email Tuesday.
Buehler, R-Crystal Lake, and McHenry County State's Attorney Patrick Kenneally had criticized the Illinois Way Forward Act. Buehler called it "an unconstitutional and poorly thought out law that was hastily thrown together by the General Assembly to make a political statement regarding current federal immigration enforcement" in a statement following the December stay.
"We are at a deciding moment of upholding people's humanity over profit," Illinois Coalition for Immigrant and Refugee Rights Deputy Director Veronica Castro said at Tuesday's rally. Others who spoke Tuesday were representatives of the Interfaith Community for Detained Immigrants and the National Immigrant Justice Center.
People navigating deportation proceedings should not be separated from their family, Castro said.
Fighting back tears, Osorio spoke of her experience at the McHenry County Jail. She said the stint there caused trauma to her and her children.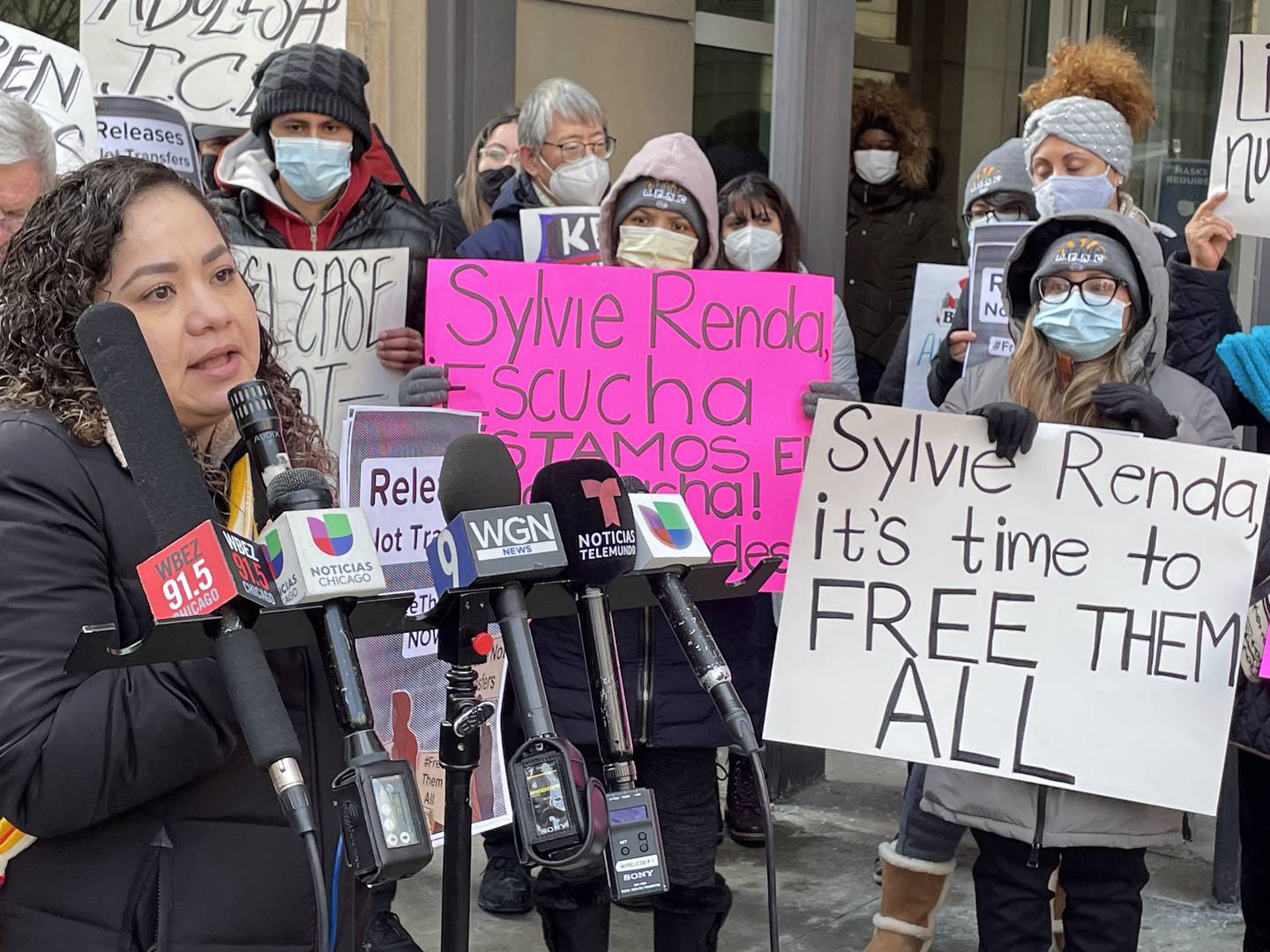 Osorio, now a member of the Organized Communities Against Deportation, said she came to the U.S. from Colombia more than 20 years ago and was arrested by ICE last year.
In October, Osorio was transferred to a jail in Kansas where she was housed with the general population, she said.
"They practically treat you like an animal," Osorio said. "We don't deserve to be treated this way … We're only looking for a better life for our kids."
The Northwest Herald inquired Tuesday about the allegations of poor treatment of immigration detainees at the jail and the status of the remaining detainees but did not hear back from McHenry County jail officials.
As of Jan. 13, there were 46 ICE detainees in the McHenry County Jail, down from 59 on Dec. 30, according to county spokespeople.
After trying to deliver to Renda's office a petition signed by almost 3,000 people Tuesday and being told the office was closed, the immigrant rights groups said they would email her the petition and continue to call for the release, not transfer of the detainees.